Project Type: Business Hosting, Featured, Web Design.
Industry: Banking & Financial, Consumer Products & Services, Professional Services.

A full service and specialty line general insurance broker, Zehr Insurance Brokers Ltd. with seven locations around Ontario Canada, is a long-time COMMbits client.
In this Summer 2018 rendition the big challenge was to merge together the company's two previous websites; The
Zehr Vintage Cars
stand-alone website is now a part of the Firm's main website.
The merging presented a new challenge: How to structure pages across different departments in an easy-to-navigate fashion.
Meet "Mega Menus"!
With the new Mega Menu technology we are able to present different menus for screen sizes, including desktop and smartphones. Also, we are now able to design and display beautiful pull-down menus complete with graphics! (Visit the live site, or see the images below.)
Also, there is now a new Partner's Logo Carousel. Using a horizontal ticker-tape type animation, the carousel beautifully solves the "web real estate" problem, while allowing for easy back-office maintenance. Finally, we are able to easily display subsets of logos from the same main database, on different pages, based on back-office categories. See the Life Insurance Living Benefits page for a logo subset example. All at a click of a button in the Back-Office!
"Easy maintenance" was one of our main objectives during the merge initiative, and easy Staff Listing maintenance was of paramount importance. This is now achieved with a new, specialized and customized add-on that allows for easy, field-based maintenance of staff through the back-end. Categorization is achieved just by clicking on the desired categories/locations, separately for each staff member. Easy!
As always, the new web design addresses responsive issues effectively and makes the site accessible and displayed beautifully in a number of devices including desktops, tablets and smartphones.
Also a new initiative for this project is our new intimate and on-going involvement in Blogging, to sustain proper Search Engine Optimization and exposure to Search Engines.
For almost a decade, COMMbits continues to support and maintain this project, in addition to providing business web hosting, security, website disaster recovery and website optimization services on an ongoing basis.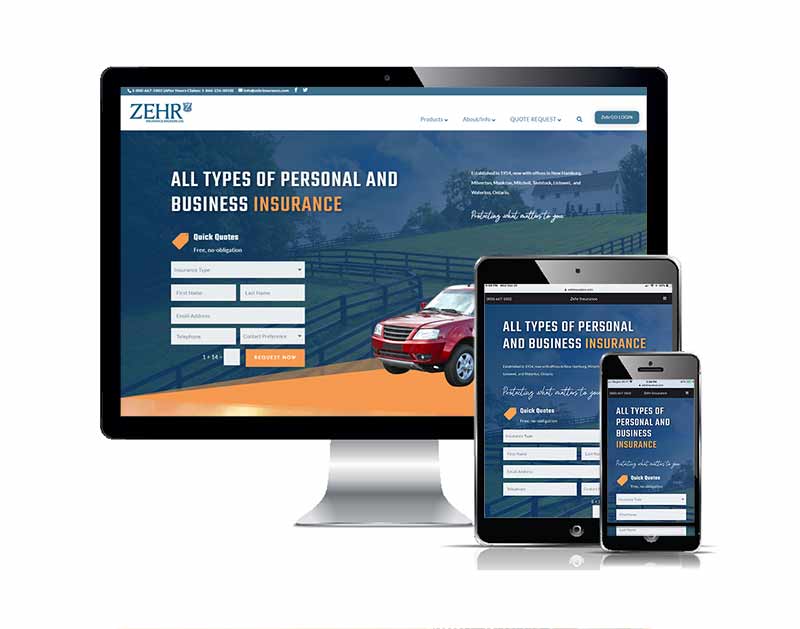 September 2018
Hey Al!
Wanted to say thanks for revamping our website! It is totally awesome!
Thanks to your team as well for spending so much time converting our two websites into one kick-ass website!
The new site is really what we were all hoping for and we're all very pleased with how it turned out.
Thank you!
Zehr Insurance Brokers
65 Huron St, New Hamburg ON N3A 1K1
Tel:  519-662-1710 Richard Zehr, BBA, CAIB
If you have a 
Vision

 We will help you turn it into reality