Martha Digby, Registered Psychotherapist
Project Type: Business Hosting, Featured, Photography, Small Business Web Design.
Industry: Education & Healthcare.

Are you involved with a pathological Narcissist? Registered Psychotherapist Martha Digby can help!
Martha offers a unique
Narcissistic Abuse (NA) recovery program
that works!
The Narcissistic Personality Disordered abuser has classic, identifiable patterns of behaviour that hurt their target or victim, and Martha displays them all on her new website!
Martha has been with COMMbits for more than a decade, initially with other ventures, then with her psychotherapy practice.
This is the second rendition of her psychotherapy practice website and, just like the initial setup, it also includes business photography done through a custom photoshoot.
We have also applied the very latest thinking in web design to optimize conversion ratios and turn web visitors into customers.
Still classified as a small website of the "brochure-ware" type, the new secure WordPress website was designed to captivate and guide the visitor into contacting the registered psychotherapist for counselling and therapy.
Originally published Feb, 2015, updated Apr, 2018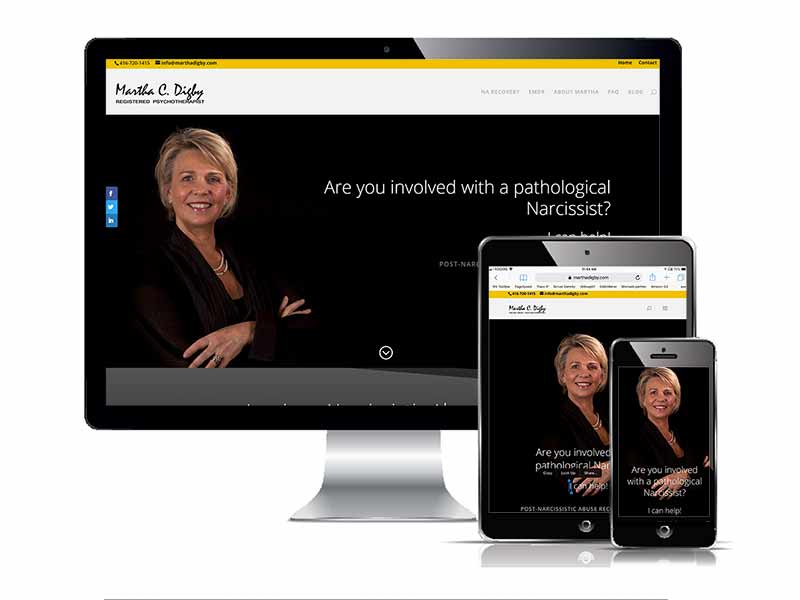 "Al – WOW! Thank you so much!! I love it!!!
And you … are awesome!!!!"
Martha Digby, Registered Psychotherapist, April 18, 2018
If you have a 
Vision

 We will help you turn it into reality